Do you want to go for India's most sought after high altitude trek? Are you looking for a trek filled with adventure? When you think of trekking and adventure, what are the things that come to mind? Is it the snowcapped mountain trails, or the beautiful green meadows, or hiking through forests covered with pine and oak treks, walking through valleys with streams of water flowing beside you with lush green surroundings, or walking through rocky terrain with no sight of civilization around or crossing a river using a rope, or an off-road drive to a pristine lake at 14000 feet.
Hampta Pass trek from Manali, in Himachal Pradesh, gives you the opportunity to experience all this packed in one adventure-filled trek. Hampta Pass is at an elevation of 14,039 feet on the Pir Panjal range in the Himalayas, separating two contrasting and beautiful valleys of Kullu and Spiti. Hampta pass lying at 14000 feet, connects Kullu valley, which is famous for its rivers, meadows, pine trees, and meadows with water streams flowing, starting from Manali to Spiti valley's barren desert covered in snow for most of the year. Trekkers get to experience two contrasting landscapes in India's beautiful adventure capital, Himachal Pradesh. The trail to Hampta Pass is one of the famous and suitable treks for beginners in Manali, Himachal Pradesh, giving stunning views at Lahaul, Kullu, and Spiti Valley.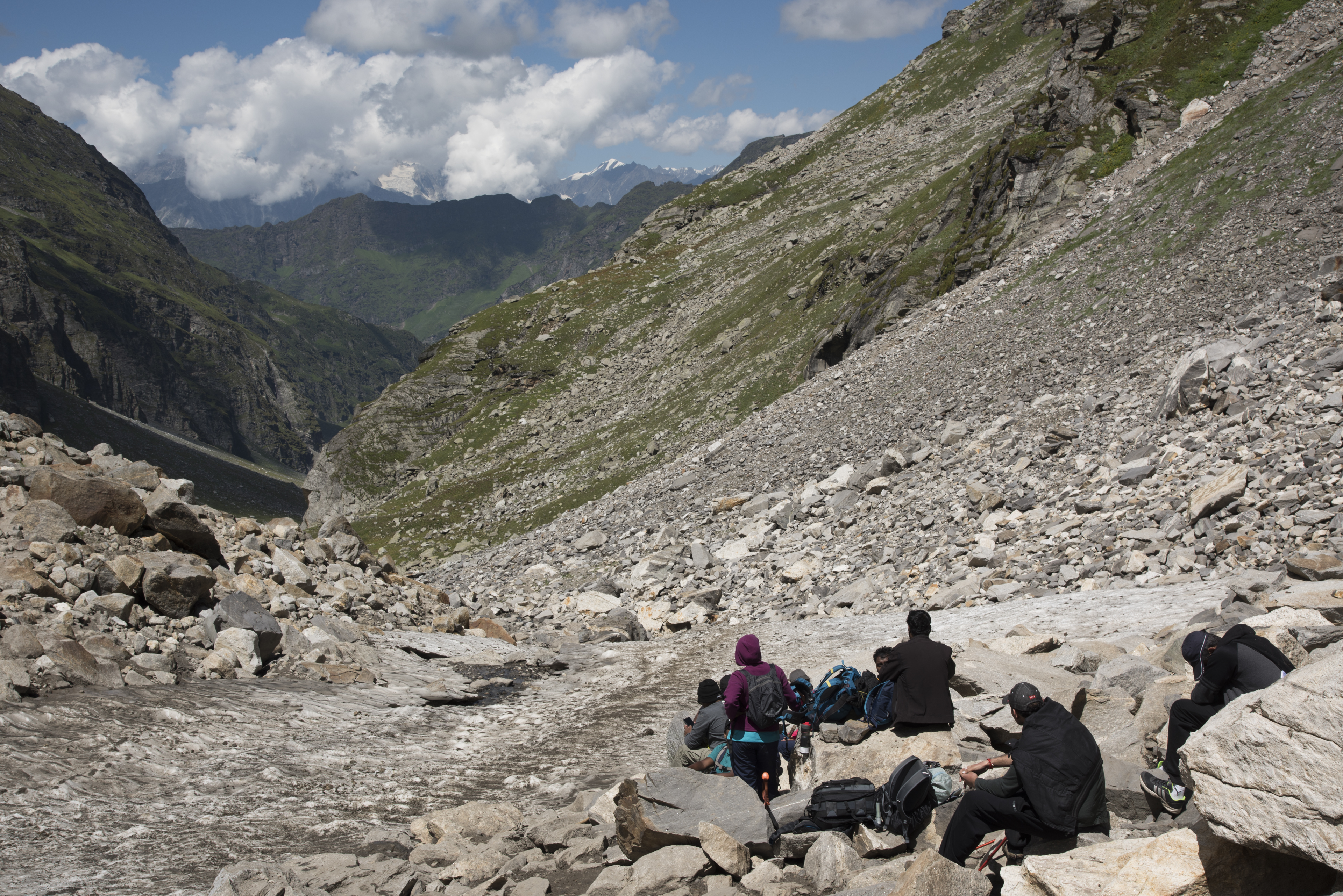 Hampta pass trek- the best time to go?
The best months to do Hampta pass trek are June and July is you love the snow as the biting cold weather can give you the ultimate chills. Experiencing snowfall at hampta pass in June with temperatures falling to almost -15 degrees is a treat for many. The reason why Hampta pass is famous for trekking is snow; the pass has lump sum snow, which draws more tourists in June and July. Suppose you are not a fan of cold weather and want to experience a green landscape with lots of flora and fauna, the sound of streams, and river gushing, then you should plan to go in July mid up till October first week. October brings in fresh snowfall on the Hampta pass trek, making it inaccessible till June next year. Shepherds mostly bring their sheep for grazing in this pass for its unique high altitude grasslands during summers.
The forests have so much to offer; rich flora and fauna, various types of wood like oak, fir, maple, birch, pine trees with patches of snow, which adds to the beauty of the trek. The clear blue skies, rivers streaming, waterfalls, lush green meadows all around with various colorful wildflowers, and snowy terrains of Pir Panjal mountains behind are very soothing to eyes. This region has so many beautiful landscapes and trails for trekking and various other adventures!
Hampta Pass Trek- How to Reach?
Hampta pass trek starts from the famous Manali, which is accessible by road. There is an airport in Kullu, which is around 60 km from Manali, but very few flights operate. The best way to reach Manali is by an overnight bus from Chandigarh or Delhi. The travel time from Delhi to Manali is around 12 to 14 hours. The travel time from Chandigarh to Manali is approximately 8-10 hours.
Hampta Pass Difficulty level:
Hampta pass trek is considered easy to moderate in difficulty and a perfect one for beginners. Generally, it takes four days to complete the Hampta pass trek. One more day is further added to visit the well-known and striking Chandrataal, a high altitude alpine lake a few hours from Chatru. If you are well-equipped and are carrying the necessary trekking gear, then the trek is safe and a once in a lifetime adventure for you.
Brief itinerary of Hampta Pass Trek:
Day 1- Manali to Jobri and Trek to Chikka:
A drive of 19 km, which takes 1 hour from Manali, passes through Prini, Sethan, and Jobra. It's an easy 2km trek to the Chika campsite on Rani Nallah, which walks you into a mixed pine tree, green maple, and birch trees. Trek ends at Chikka, and you'll find a stunning waterfall close to the campsite.
Altitude:- Jobra 9,800ft to Chika 10,100ft
Trek time: 1 hour.
Day 2- Chikka to Balu ka Ghera:
After waking up to the waterfall sounds, leave from Chika campsite for a thrilling trek through stones and boulders. After 3 hours of gradual mounting, you reach Juara Nala, a fun part of the trek where you experience the thrill of the river crossing, spectacular views of Indrasan Peak and valley down below. Finally, reach Balu ka Ghera, have lunch, and spend time there.
Altitude:- 10,100ft to 11,900ft
Trek time: 5ñ6 hours.
Day 3- Balu Ghera to Shea Goru, and cross Hamta pass:
Start early morning, which takes an hour to reach upper Balu ka Ghera, from where the ascent to Hampta Pass Summit starts. Once you cross over, you witness the barren landscape of the Himalayas in Lahul and Spiti Valley. This entire route is covered with snow in June and takes around 4 to 5 hours to reach Hampta Pass Summit. Enjoy a beautiful panoramic view from the top, meet shepherds who visit the valley to nourish their sheep, and then start descending towards the next campsite, Shea Goru.
Altitude:- 11,900 feet to 14,100 feet descending to 12,900 feet
Trek time: 7ñ8 hours.
Day 4- Shea Goru to Chhatru, and drive to Chandra Tal:
It is a trek downhill from Shea Goru with a trail by the river valley's side between the Pir Panjal mountain ranges. The courses take you through beautiful landscapes, glaciers to cross and arrive at the base camp at Chatru, which is the next camping zone. The Chandra River flows below, and a road goes by its side.
Altitude:- 12,900ft to 11,000ft
Trek time: 5 hours.
Day 5: Chatru to Chandratal or Chatru to Manali via Rohtang Pass(depending on the Road condition) :
Chandratal Lake is 45 km from the Chatru campsite. You can hike up to visit the marvelous Chandratal Lake only in the summer months if road and weather conditions permit us. If the Lake is closed in the month you are going; then you will have to head back to Manali.
Our Hampta Pass Circular Trek comes to an end with a beautiful mosaic of memories.
Hampta Pass Trek - The best time to visit
When you think of trekking, what comes in mind is the snowcapped mountain trails on the Himalayas, especially in Himachal Pradesh. Maybe that's how movies trick our minds! That's true because this region has so many beautiful landscapes and trails for trekking and various adventures!
Manali, a famous town in Himachal Pradesh, serves as the basecamp for a various trek, and Hampta Pass is one of them. Hampta Pass is rested at an elevation of 14,039 feet on the Pir Panjal range in the Himalayas. It is a small narrow passage between two valleys; the Lahaul Chandra Valley and Kullu Valley in the Himachal Pradesh.
The trail to Hampta Pass is one of the popular and convenient treks in Manali, Himachal Pradesh giving the breathtaking views at Lahaul, Kullu and Spiti Valley. If you are well-equipped and are carrying the necessary trekking gear, then the trek is safe and an adventure for you. Besides that, you also need to know what is the best time to visit Hampta Pass for a trek.
So here are the details to choose the favourable month for your trip!
Hampta pass trek in June
During June, you can still see a lot of snow around. The snow starts melting very slowly, and till Mid July, the place is filled with snow. So if you want to experience snow trek in Hampta Pass, then this would be the time. This trek gets a lot tougher due to heavy snow after you cross Balu ka Ghera campsite on the third day.
If road conditions are good, you could see the beautiful Chandratal lake at 14000 feet. An adventure-packed snow trek with an excursion to Chandratal lake climbing a pass at 14000 feet, glaciers, surrounded by mountains, and stargaze in the night! Or let nature take you away for some time and evolve you by the time you head back home. If the sky is clear, you are lucky enough to catch a view of the Milky Way.
Hampta pass trek in July
The snow starts to melt in mid-July and monsoon season commences with a lot of rains in Manali. If you look trekking in rainy weather, this is the month. The region looks fresh with greenery and wildflowers, water bodies, forests look fresh, foggy, and dense! Hampta pass is an altogether different experience! Every month has its beauty. It is also easy trek without snow, green meadows, rocky trails, and you'll have a lot of fun crossing the rivers and waterfalls on the way.
You can also return from Rohtang Pass as the Pass opens for only a few months like July, August, September. If you want to experience monsoons in Hampta, then July would be the time, as you will also experience rainfall adding up to life memories! Also, visit magical Chandratal Lake for camping and be carried away by the Himalayan winds.
Hampta pass in August
As the snow completely melts, this month will be sunny in the valley with the end of rainfalls mostly after the first week. During this time, the region looks very different with green meadows with new flowers blossoming around. You can see the sun shining bright, the birds in the high woodlands, rivers and waterfalls gushing in full flow, pine valleys, shades of yellow, orange, pink, red colour flowers in the meadows, streams flowing. Once you cross the tree line, you can get to see the raw barren rocky landscape.
Green lush meadows on the sides of the Himachal and Spiti region, mountain ranges around, various snow hues, and cool weather with sunlight gives a fresh feel. At this time, you can also visit Chandratal Lake, which is known for the best camping sites, and the highlight of the trek.
However, since it is a monsoon period, the Manali region is hit by rainfalls, and the roads are patchy, slippery, muddy especially at waterfalls and rivers. So you've got to be super careful during this period and plan very meticulously.
Hampta pass trek in October first week
As the winters begin, the weather becomes quiet, calm, chilly, and no rainfalls. You'll witness clear sky and clear weather in the mountain peaks and valleys, and a perfect time for photography! The day time will be bright and sunny, whereas the nights will be chilly as the temperature drops down.
Trekkers get to experience a different Hampta Pass with seasons first snowfall in the first week of October. Although, Hampta Pass trek in October is the matter of probability. Due to heavy snowfall by the second week, it would be difficult to cross the Hampta pass. If you are trekking during this time, you might have to take a different route while descending as the route of Rohtang pass might get closed due to snow blockage after the second week.
Hampta Pass Trek is closed from October mid to June.
By mid-October, weather changes, snowfall becomes hefty furthermore climate will be unpredictable. Due to this, it might get a little difficult for trekking as the roads will be narrower due to snow. Also, Rohtang Pass will be closed until May due to snow obstruction, and so the path will be challenging.
Hampta Pass is open for only a few months in the year, from May-June to Mid-October. During the other months, the region will be freezing at sub-zero temperatures and non-accessible by foot.
Hence it is not advised to go for a trek during these months as the temperature and weather is harsh, and also the trails are snowclad, which makes it tough and arduous to walk on.