Looking for a winter trek in the snow, the Great Himalayas welcome you to the beautiful and most popular Kedarkantha trek. Situated in Uttarakhand, surrounded by western Garhwal of Uttarkashi district. The base camp Sankri, a village in Uttarkashi district at 6,400 feet inside the Govind wildlife sanctuary is the start point of the mesmerising 25km Kedarkantha trek.
How to reach Sankri base camp for the Kedarkantha Trek?
The journey starts at Dehradun. It is a drive of 198 km approximately from Dehradun to Sankri village which takes around 10 - 11 hours. There are direct public buses to Sankri that start around 5 AM and 7 AM. Don't worry if you miss the bus; you can take connecting buses until Purola or Hanol and change another bus there to reach Sankri or hire a taxi. Or take a shared jeep or taxi.
If you don't want to travel by bus, you may hire a taxi or drive your car till Sankri takes around 8 hours. The drive is quite refreshing, passing through beautiful villages, watching the lush green meadows and snow-capped mountains on the curvy roads, and passing through the pine and oak trees. You can see the Tons river flowing beside you.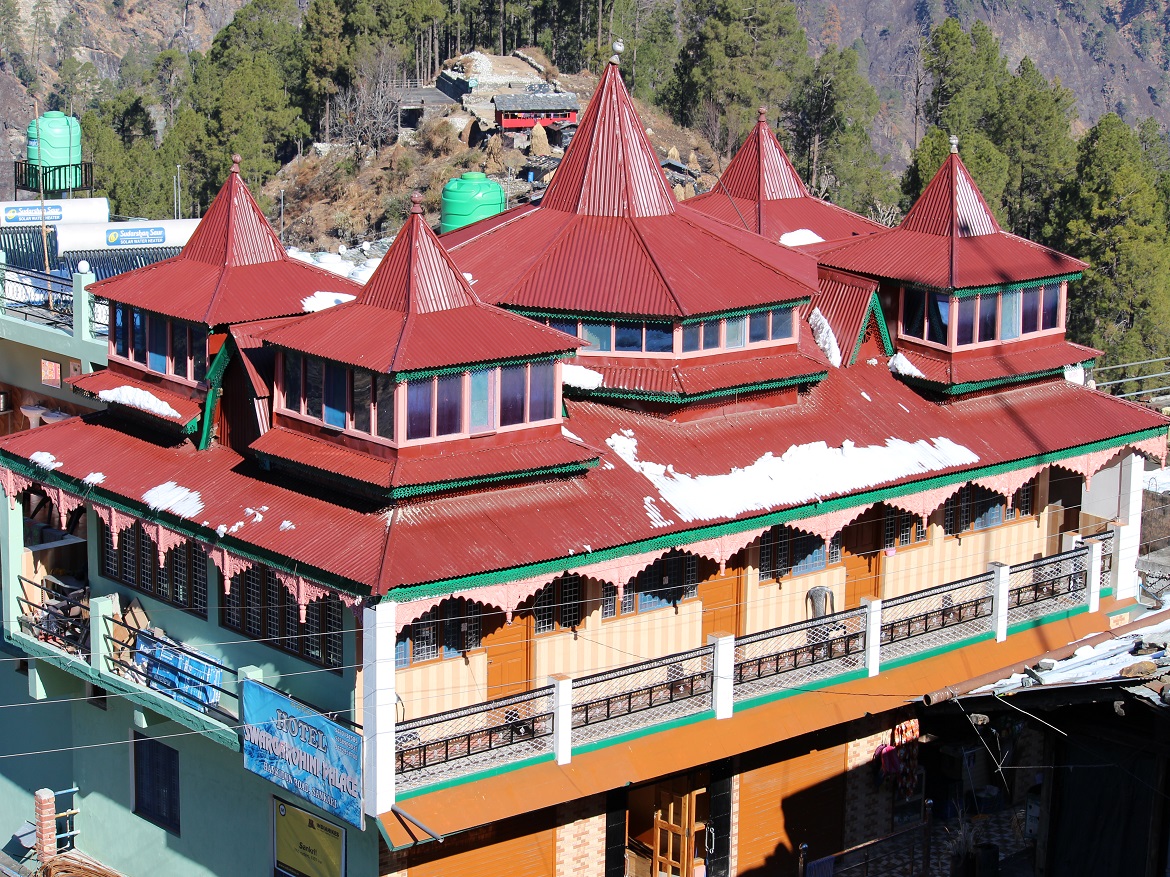 Kedarkantha Trek from Delhi
If you are planning to go from Delhi you have 3 options to reach Sankri base camp which is the start point of the trek.
Option 1
Take a cab/ taxi or your own vehicle from Delhi to reach Sankri. This will take around 12 to 13 hours covering a distance of 430+ km via Dehradun, Mussoorie and Naitwar. Road conditions from Delhi to Dehradun are good. From Dehradun to Sankri the roads are curvy and a stretch of 50 odd kilometres is patchy and rough. Please plan your accommodation and parking in advance as there are limited options available there.
Option 2
Take a train from New Delhi station to Dehradun. The best ones are DEHRADUN SHTBDI (12017),DDN JANSHTBDI (12055),NANDA DEVI EXP (12205),MUSSOORIE EXP (14041),DEHRADUN EXP (19019). Almost all trains reach early in the morning.
From Dehradun, you can take a local bus at 5 am and 7 am respectively or take a shared cab from outside the railway station or hire a personal cab for your group.
Option 3
Take a Volvo bus from RK Ashram Marg New Delhi or Anand Vihar Metro station. These buses are available till 6-7 pm from Rk Ashram and till 11 pm from Anand Vihar bus station.
From Dehradun again you can take a local bus at 5 am and 7 am respectively or take a shared cab from outside the railway station or hire a personal cab for your group.
Kedarkantha trek from Mumbai or rest of India:
People living in Mumbai or anywhere in Maharashtra have two options. You can take a flight directly to Dehradun and from there take a cab or bus to Sankri.
The second option is via Delhi by flight or trains and plan the route mentioned above from Delhi.
The trek starts from Sankri, the basecamp at 6,400 feet, ascending to high altitude 12,500 feet. Kedarkantha Trek is a 25 km long stretch to reach the summit point, trekking through the beautiful trails. Once you get Sankri, you will start witnessing a 360-degree panoramic view.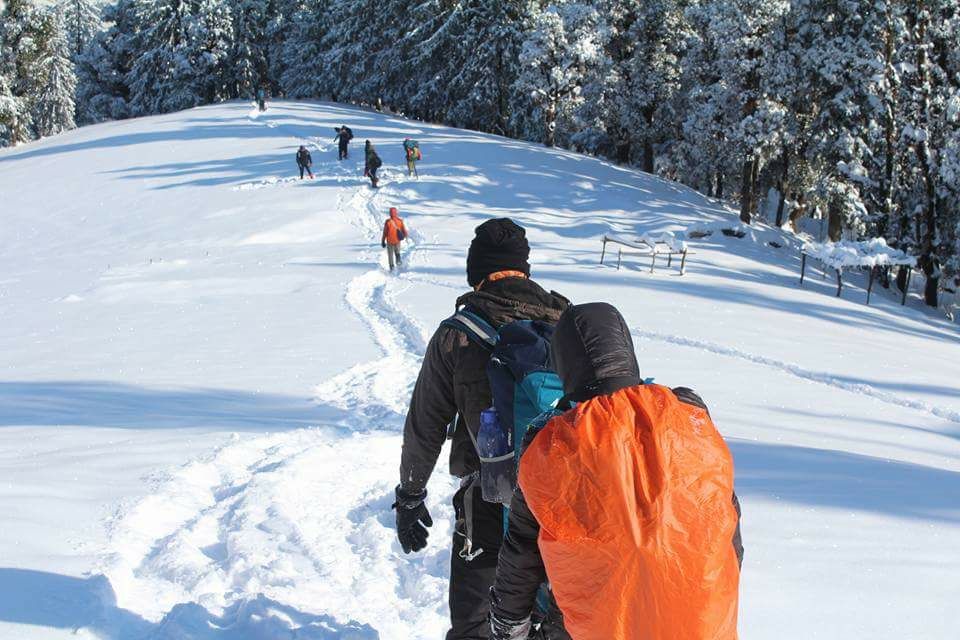 Best time to visit Kedarkantha Trek
Not many treks are accessible during the winters due to heavy snowfall. Kedarkantha on the other side has the right amount of snowfall for you to summit the peak at 12000 feet which makes it the ultimate winter adventure during the winters. You can experience snowfall from mid-December to March.
The best time to visit this place will be in peak winters, from December to April. Although you can go any month throughout the year, you have to see the winter with the snow, making it a wonderland. It has beautiful campsites like Juda ka Talab and Har gaon to camp and enjoy the snowfall.
Here is the basic itinerary for a short Kedarkantha trek.
Kedarkantha trek starts from Sankri village
Day1: Dehradun to base camp at Sankri
It is a long drive of 187 km from Dehradun to the base camp at Sankri village at 6,400 feet. It takes 8-10 hours to reach, and on the way, you'll pass beautiful villages like Mussoorie, Naitwar.
Day2: Sankri to Juda Ka Talab
The base camp to Juda ka Talab at an altitude of 9,000 feet is a 5 km climb. The trek takes around 5 hours watching the luscious green meadows, pine, oak, and maple trees. Once you reach Juda ka Talab, you can also drink water from the lake.
Day3: Juda ka Talab to Kedarkantha Base Camp
Start the trek in the early morning during sunrise to Kedarkantha base camp located at 11,200 feet. Today, it is a 4 km trek, which takes 3 hours to reach, passing through pine and oak forests.
Day4: Kedarkantha Base Camp to Kedarkantha peak to Hargaon
Start the day before dawn to reach the summit by sunrise. The peak is at 12,500 feet and takes around 2-3 hours to arrive. Once you witness the glory of nature, stop there and sink in. Head back to Hargaon, which is a 6 km trek at 8,450 feet.
Day5: Hargaon to Sankri
Time to go back home! A 6 km trek from Hargaon to Sankri village takes around 3-4 hours. After a break, you can head back from Sankri to Dehradun. If you wish to stay another day in Sankri, then go ahead!
Things to carry for the Kedarkantha trek: a brief of the important things
1) Woollen clothes like sweaters, thermals, pairs of gloves, caps, mufflers, socks:
Heavy and complete three to five clothing layers are minimal during Winters as the weather might get unpredictable. Light woolen is enough for summer trips.
2) Windproof jacket
3) Hiking shoes, Snow boots, sandals or slippers
4) Walking stick or a trekking pole
5) Accessories like sunglasses with UV protection, sunscreen lotions, lip balm, headlamp, torch with extra batteries.
6) Toiletries: Sanitizer, tissues, liquid soaps, paste and toothbrush
7) Medicines: Diamox for altitude sickness, essential medicines for headache, stomach upset, and regular medication if you are taking any, band-aids, volini spray, and anything else.
8) Phone chargers or power bank
9) Raincoat, extra shirts/t-shirts, and trekking pants
During Monsoons, please do not forget to carry a raincoat, an umbrella, and an extra pair of clothes.
10) Identity card and photocopies.
11) Water Bottle or insulated water bottle
12) Woollen fleece jackets
13) Few poly bags to keep any wet clothes.
14) Energy bars, biscuits, chocolates, dry fruits to munch, and ORS or Glucose to not drain energy.
15) Camera with extra memory cards, batteries, chargers.
Tips for the trek for first-time trekkers:
» Plan your trek with a trekking company as it will help you with getting quality accommodation in Sankri and hassle-free trekking experience.
» If you are taking your vehicle be sure to book your accommodation beforehand in Sankri so that you get proper parking and accommodation on arrival.
» Renting of trekking poles, trekking bags and trekking shoes can be done in Sankri but check the availability during peak season.
» Electricity in Sankri can be an issue as there are frequent power cuts. Charging your phones and cameras or carrying extra batteries is advisable.
» Carry a flask or water bottle so that you can drink warm water throughout your trek.
» Carry an extra pair of woollen socks and a hot water bag if you are susceptible to cold weather.
» Do not carry too many clothes, as you can manage with the fewer pairs for a shorter trip so that the backpack doesn't become heavy luggage. You have to pick clothes according to the season and avoid unnecessary stuff. But, must carry 3-4 layers which are light to carry.
» Since you'll be climbing up, the trekking pole must have a balance and body stability. It also saves some of your body energy.
» Carry a suitable trekking backpack to stuff things in the right place, as you have to carry it while trekking.
» If you are travelling from Delhi to Dehradun try and take a train rather than a bus as it is more comfortable and on time.
» No network after Purola (halfway to Sankri) so inform your loved ones and make important call beforehand
» No ATMS after Mori so take out the cash if you need in Dehradun itself.
» Please do not litter because these mountains are sacred and it is very difficult to clean. You must carry a small pouch for all the plastic wrappers and other waste and throw them in designated waste bins.
» Smoking, drinking and drugs should be avoided during the trek or in the hotel in Sankri.
» Take small steps when you begin and gradually increase the pace.
» Keep a water bottle to hydrate yourself and munch the energy bars until the trek finishes. It will be a 25 km long trek through the beautiful trails, amidst pine and oak forests, crossing river streams to witness the stunning view.
» You will trek around 3 AM, so a headlight is essential! Breaking the dawn, you will reach the summit to capture the mesmerizing sunrise at 12,500 feet and behold a 360-degree panoramic view. You will also witness 13 peaks of the Himalayan Range from the summit point.
Mobile connectivity on the trek?
Remember that you are going to the Great Himalayas! The mobile connectivity is good until Mussoorie. Once you reach Sankri, the connectivity fluctuates, and hardly get signal strength after that for BSNL. So, once you reach Sankri, have a word with your family and make any important calls. Once you enter Sankri, the connectivity will be just between you and nature. This place needs your full attention with no signal fluctuation.
ATMs available
Cash is essential while traveling, especially to places like these, where many don't accept cards, online banking, or other money apps but rather cash for a quick and easy transaction. The last ATM you will see is in Purola. But if you are taking a direct bus, then you better draw your cash from Dehradun. You will not find a single ATM in Sankri and later anywhere in the trek, and things become problematic if you do not have money.
Kedarkantha Trek Difficulty level:
Kedarkantha Trek is a 25 km trail climbing from 6,400 feet to 12,500 feet and one of Uttarakhand's easier treks. It makes a perfect challenging trek for the beginners who want to explore trekking in the Himalayas. The short length trek can be done slowly watching the surroundings, capturing the moments, making it even more divine. Once you reach the top and see the other peaks on eye level, it gives a humbling feeling, which is very satisfying after the summit.
Is Kedarkantha trek and Kedarnath different?
Kedarnath and Kedarkantha are different, but both are located in the Garhwal Himalayan range. Dehradun's distance to Kedarkantha is around 200 km that takes 10-11 hours to reach Sankri, the base camp of Kedarkantha trek. It is famous for winter treks for which many people wait for winters to crowd here. The campsites are beautiful with mountain peaks, pine and oak trees as a backdrop, a bonfire in the middle of the camps keeping it warm in the nights, and many beautiful sights.
Weather and temperature during Kedarkantha trek:
During winters, the temperature in day time ranges from 5 degrees to 10 degrees celsius. In the night, it drops drastically to 0 degrees to -10 degrees celsius. Snow availability will be moderate during the first two weeks of December. The place gets covered with substantial snow blankets in every direction from the last week of December.
This place will be covered with heavy snow and fresh thick layers of snow in January and February. You may get the sun in the day, keeping you all warm, but the temperature drastically drops down in the nights and gets super cold. And as you climb higher, it gets colder. During the months of March to May, the temperature becomes warmer with day temperatures from 10 to 15 degrees and night temperatures between sub-zero and -5 degrees and pleasant with patchy snow around.
Mode of transport available and Sankri stay:
There are various modes of transport to reach Dehradun.
By flight: You can reach Jolly Grant Airport in Dehradun and take a taxi or a bus to reach Sankri.
By train: You can take an overnight train until Dehradun Railway station, the nearest railway station, and then take a bus to Sankri.
By cab: If you want a private taxi from Dehradun to Sankri, it will cost you more, around 5k- 6k for 4 to 5 people.
By road: You can take any Volvo, deluxe, or semi-deluxe buses from Delhi to Dehradun that takes around 10 hours to reach Sankri.
There are various homestays and hotels in Sankri that you can find easily. Homestays are budget-friendly. Rooms get sold out during winters, especially in December and January, since it is the peak season for Kedarkantha trek. Hence you should make prior bookings or adjust in homestays. In other seasons, rooms are readily available. Few famous hotels are the Rawat guest house, Swargarohini hotel, hotel Orchid Inn, Himalayan Homestay. If you are going by any tour package, they will take care of the accommodation for you.
Permits for the Trek:
If you are taking any tour package, then permits are not needed as they'll take care of everything for a smooth ride. But if you are a solo traveller or going in a group, you need to take a permit. It will be available at a check post at Mori, Purola, and Natwa. It will cost INR 50 for each day.
Conclusion:
Here is the delightful Kedarkantha trek that wins your heart! It is safe to travel to Kedarkantha. The silent and soothing water streams are more like a sound healing therapy when you get tired of the trek, and this trek gives a blissful experience whichever month you go. The frozen lakes are a perfect time for skiing, and peaceful lakes in summers give beautiful reflections of long alpine, oak trees soothing your eyes. The cosmic view and starry nights make you believe that you are always grounded on earth. Doesn't it sound like a heavenly landscape?
The people in the region are also known for the different cultures and treat you very grounded and humbly. This place is also a place for a spiritual ride, as the Hindus believe it to be the abode of Lord Shiva, one of the 14 Jyotirlingas in the world. The experience gets transcendental by visiting the temples around the village.